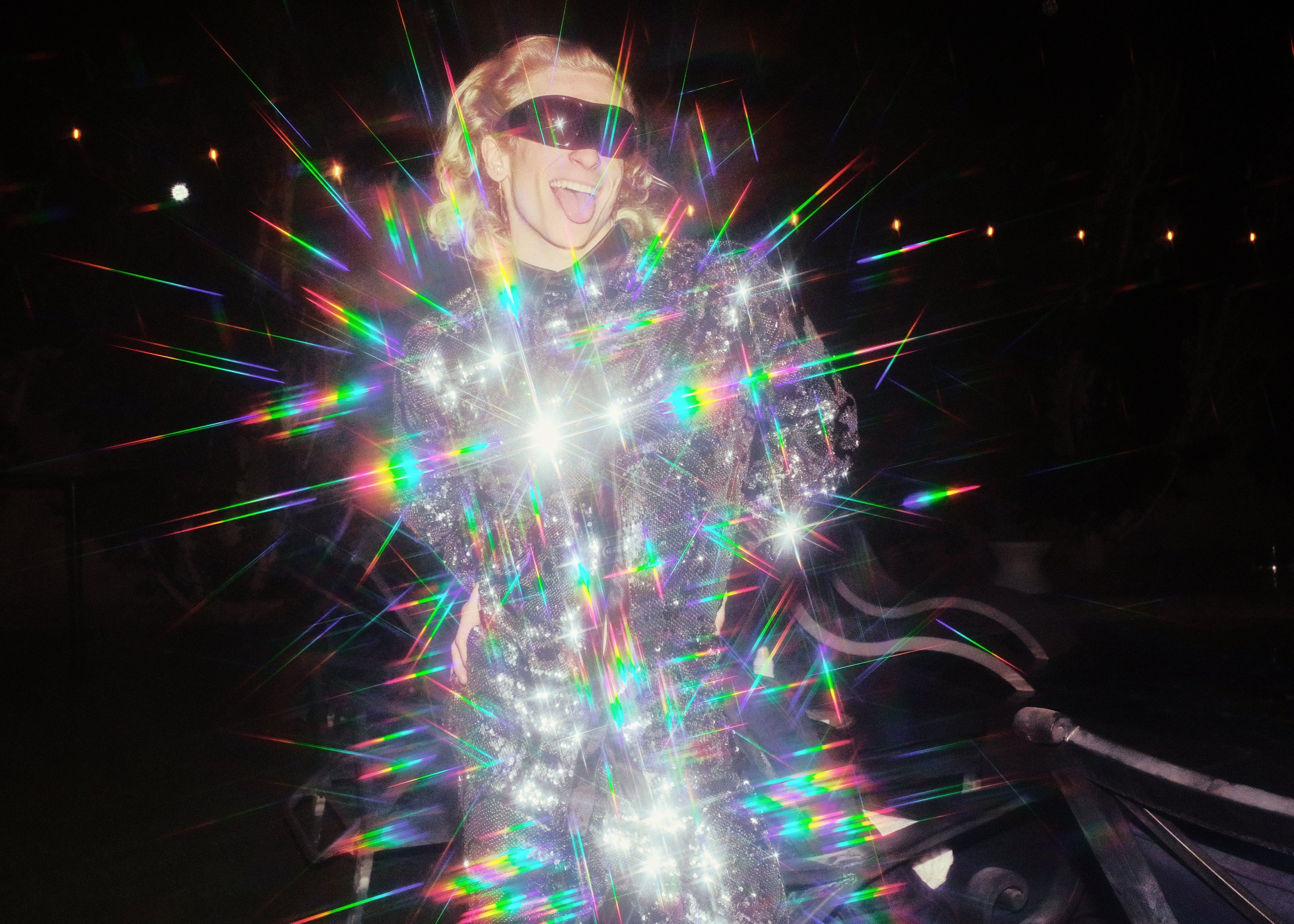 The key to a successful Coachella weekend is always having a good crew. From controversial sets and talent cancellations to expensive festival fare and blistering heat, Coachella's terrain is an uncertain one at best — and not always the easiest climate to brace alone. Just like a water bottle, you need your festival possé.
Related | RETROGRADE Sunglasses Will Shield You From 'Galactic Chaos'
Enter BFF duo Jadon Medina and Marley Hemmen, founders of POSSE, the LA-based PR company that's been taking Gen Z's temperature and actually acting accordingly. Teaming up with PAPER, POSSE hosted a good vibes only Coachella festival house with an iconic cast of girls, gays and theys, like Sugar and Spice, Griffin Maxwell Brooks, Gia Woods and ​GTM​, to ensure the weekend started off right.
NYC's cult-favorite club kid Griffin Maxwell Brooks was the first to hit up Arms of Eve designer Kerryn Langer each morning for a personal styling session. In a shimmer of metals and gleaming adornments, Kerryn expertly costumed the talent in curated pieces, as if preparing each knight for battle. In the meantime, GTM hit a festival record of "most Coachella parties attended," wearing custom stacks by Awe Inspired and an armful of wristbands.
A crowd favorite, Euphoria's esteemed makeup artist Donni Davy of Half Magic Beauty, worked with each POSSE guest to create their very own glittering playground of face glam with their glitterpuck fairy dust and viral face gems. Apart from the well-deserved applause from house guests, the biggest compliment of the day was Sugar and Spice putting down their makeup brush to let Donni work her magic.
SERV Vodka kept everyone in good spirits while sipping on specialty cocktails inspired by their six flavors and raising funds to support the art of drag. Gia Woods could be found lounging poolside with a Trixie Mattell Pink Lemonade and fresh cherry martini, all while SERV Vodka donated 10% of net sales to support the LGBTQIA+ community and fight back against the Tennessee drag bans.
Like any good festival B&B, POSSE wound down each night over frozen pizza bites, bundled up in Boody pajamas, snacking on cannabis goodies provided by the Woods WeHo, Stone Road and their hometown favorite Big Pete's Treats.
The good times were extended to other festival performers and attendees and invited Aleali May, Aquaria, Ty Sunderland, Linux, Patrick Starrr, Tyshon Lawrence and Huddy to stop by. Checkout out the exclusive Jussy polaroids from the event, below.
Photography by Jussy