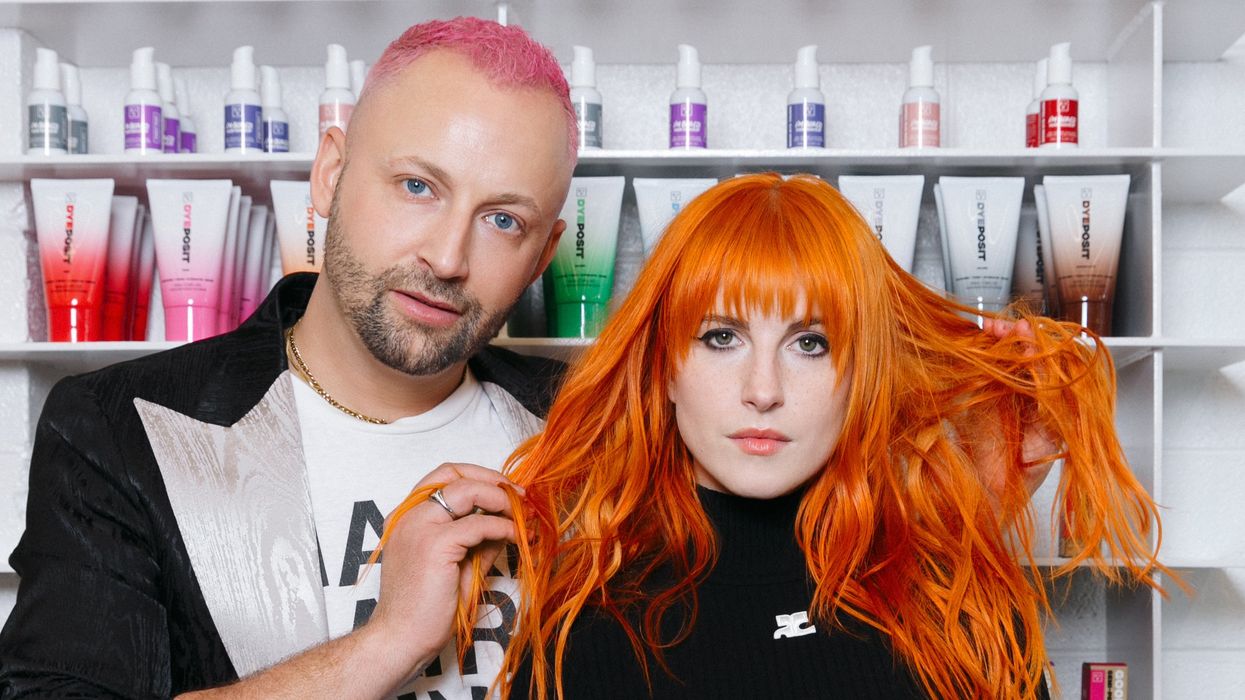 Driving through Nashville to Fruits Hair Lab, my Uber driver, an elderly Southern man says, "Didn't know there was a salon down here, maybe I'll get my hair cut!" But as we pull into our destination's lot and each experience the sleek, modern salon guarded by a bright yellow dinosaur sculpture for the first time, we realize in real-time that it might not be the salon for him.
He would be more than welcome, though, as everyone is here — the salon, which was co-founded by Brian O'Connor and Paramore frontwoman Hayley Williams, prides itself on being a safe space, built on the spirit of inclusivity as much as it is on preaching "the neon gospel," as Williams tells PAPER. And in a state like Tennessee, where the idea of "gospel" can be a polarizing and triggering force for many communities, the work this duo has done (and continues to do) holds special weight.
Just in the last month, Nashville has been hurting — through the horrors of a school shooting, the discourse around "drag ban" laws and rising violence and transphobia in Tennessee and surrounding states. In speaking with Williams and O'Connor, it's clear that these two feel it too and are not the types to leave that pain alone. Across their many platforms — from Paramore to their hair dye company Good Dye Young to Fruits — they are putting their energy into unifying and connecting the queer, creative and nonconforming communities around them.
Though I left my two hours at the salon with the same brown hair, I had the honor of understanding what's led Hayley Williams and Brian O'Connor here — and it's a story that goes well beyond hair.
What was the first time you dyed your hair? How did it feel?
Hayley Williams: The first time I dyed it at home, the guys and I decided to pick up boxes of black dye at a pharmacy. We were just trying to look more post-hardcore-ish. I looked dead. A couple years of choosing random copper and berry-toned boxed dyes and then I finally walked into the salon where Brian worked. He cut my bangs at an angle and dyed my hair auburn with yellowish tips.
Brian O'Connor: I was just fresh out of hair school! I was assisting a woman named Darla Walker who owned a salon in Franklin, Tennessee called The Pink Mullet. Hayley was 16 or 17 and I was just about to turn 20. I remember refreshing her hair that one time, when she wanted to look like a matchstick, around the time of "Pressure," just before the band went to Japan. When she came back in, she was like, 'Alright, we've been working on a second album. We're about to shoot all the promo images for it and the music video for the first single,' which was "Misery Business." And she added, 'I just came back from Tokyo. There's this street fashion magazine called Fruits. Now, I want to just look like an anime character of myself.' And thus, we went from dark burgundy with yellow tips to what is the iconic "Misery Business" riot-era hair with the orange and yellow bangs, the bleach-blonde strip, the bright red hair.
HW: That was the real beginning of our partnership. My Grandat, to this day, says that's his favorite of all my hairdos.
BO: And it kicked off from there. Interviews, cover shoots. All of this — it's changed my life and relationships. Just by me doing Hayley's hair, I have found the closest form to a sibling that I have ever known in my life.
HW: The origin of our friendship was truly kismet. He was an apprentice and the person I was originally booked with went on maternity leave. Our working relationship and creative collaboration spurred deeper conversations, which eventually led us to realize we were the siblings, partners, friends we had never had before. GDY, the salon, the hair on my head could all burn and we would always be family.
What was the initial conversation or moment that sparked the decision for you to start a brand together? Hair is interesting as a form of expression, and statement-making, especially in creative spaces.
HW: My friend's kid once said, "Hair is just a decoration." And it's true. We're not talking about tattoos or anything permanent. Brian also sees the transformative power of it from behind his chair. People leave a completely new version of themselves. Not different, not even necessarily "upgraded," but more empowered, more confident.
BO: Growing up in a very small town, my God, from the time I was in fourth-grade gym, I either got called a faggot, a girl or some sort of name on a daily basis. At the time, I thought that was a negative thing because I just had no other resources to say, there's nothing wrong with femininity in someone who identifies as a man. Now, my femininity is the one thing that I hope I never lose — I want to keep my soft edges, because there are a lot of sharp ones that I'm hiding with it. Some days I wake up and I want to be in dude clothes and buzz my hair off and some days I wake up and I want to be in hot pink heel boots with neon ex-girl hair. But growing up, hair was one of my only ways of communicating all of that., I could always cut it off, I could bleach it out, I could dye it jet-black, I could start all over, I could wipe the slate clean.
What I've realized by seeing other people change their hair is maybe they're going through something similar. I never knew as a young preteen or teen how to start up a conversation with my peers, because I just lived in so much fear. They probably have parents who are happily married. They probably don't have a parent who has any substance abuse of any kind. They're probably not going through some sort of chaotic feeling inside their body. There were so many things that I never shared. What I know now, as I've gotten this far into my career, is that simply starting a conversation about someone's hair with them is the easiest way to connect with my peers. I hate that I missed that opportunity when I had the chance, but now hopefully I can.
Well, you're using that now to build something bigger than whatever you could have gotten in high school. Hayley, how has your hair journey, for lack of a less-cheesy term, played a role in your life — not only career-wise but in terms of personal growth?
HW: I was a little punky teenager who sort of suddenly became public property. The most incredible part to me now is that the hair was never intended to become a marketable aspect of my career.There were times my hair felt like a hindrance to my growth — once the "flame-headed" and "great orange hope" descriptors got thrown into literally every article about Paramore, it didn't feel like it was for me anymore. That plus a toxic relationship is why I eventually cut it all off and dyed it blue and then eventually bleached all the color out and wore it platinum for years. Really though, the simple truth is anytime I've gone through a breakup, a breakdown, or just needed new energy for any reason, changing my hair has felt like the easiest action to take next to writing songs.
Well, formal congratulations on the hard launch of Fruits! How are you feeling? Ready to dive in and open another salon?
BW: Actually, I would love to have one in every major city — New York, LA and Chicago. Places where it makes sense. There are also places where Fruits means something very different than what it does for Nashville.
What do you mean by that?
BO: I want this to be a safe haven for anyone who doesn't "feel like Tennessee" in all of its uber-conservative ways. People don't feel like they have a safe space here. If you just need a place to come sit down and work with people who are like you, we don't need you to spend money to get a haircut. Pull up at this high-top here, get out your laptop as a young non-conforming, non-gender-specific, creative human being, and let's build a space where we all can — as a community of people interested in fashion, makeup, hair, marketing, digital, anything — coexist, learn from each other and feel less alone.
It's a place to escape feeling "othered," and find chosen family. Which I am sure is difficult for anyone who breaks the binary in the South.
BO: Exactly. When Hayley and I talk about Fruits, I very much envision and reference "Paris Is Burning." We're embodying the spirit of those houses and mothers and how they were a safe haven — the anomaly is we're creating this version of "Paris is Burning" in the South, which is such a conservative, religious environment.
HW: We are a certified safe space, and we want to offer a different look at what Nashville is made of. I hope we draw all kinds of people in but I mostly hope that people who don't feel they have a place to go and be themselves will find us. They are the people we believe are doing the groundwork to make Nashville a more inclusive, cultural hub that is full of more music, art, good food and all kinds of people.
How does it feel right now in Nashville? It's been a heavy year so far, especially for the queer community.
BO: The morning after the school shooting, all anyone could talk about was the fact that the shooter identified as trans on social media. The thing is, how they identify is not the point. It's someone struggling with their mental health having access to semi-automatic rifles. The Trans Visibility March was canceled, as they were concerned that some people were going to target the march.
It's sickening. The last thing Tennessee, or America right now, needs right now is a reason to twist things toward transphobia or homophobia.
BO: It was like someone just knocked the wind out of me. Now the conversation is going to have nothing to do with the fact that someone was so easily able to access those kinds of guns and kill three nine-year-old children and three adults.
HW: Every time something tragic happens here, you get a window into who the real Nashville is. Everyone I've talked to lately says the same thing: "I fucking hate it here right now." Yet none of us have been able to leave and most of that comes down to the community.
We see the community come together, organizing rallies or showing up to speak at the courthouse or doing food drives or pulling funds together to help. I took part in a concert event a few weeks ago to protest the anti-drag laws. This community knows how to use its resources. What I do see here now is even people I'd have deemed politically conservative or even complacent realizing that something big needs to change here. I don't know if it's naive yet to hope that there could be even the slightest shift.
BO: When I moved here, I was 16. Since I didn't grow up that Southern way, it was very jarring. You know, I'm starting to make it home, which is weird. But it's really hard to love it with all the bullshit that's going on. Every day I fantasize to Kolten about how if Fruits hadn't opened, I would be on the quickest way out of town with Kolten in tow. I'll be 38 this year and I've never known what it feels like to walk out the street and hold the hand of someone I've been with for seven years and not think about getting a slur hurled at me or the possibility of getting the shit kicked out of us. It's hard, and maybe insane, but I still want to keep fighting to change it, to make it better because I just know that there are good people here who mean well.
That sums up your message pretty well. You're not expecting anything or anyone out there to change necessarily, but you're creating a vehicle in spite of all that within your own reach and inviting others in. That's the real work.
Photos courtesy of Fruits Hair Lab and Good Dye Young