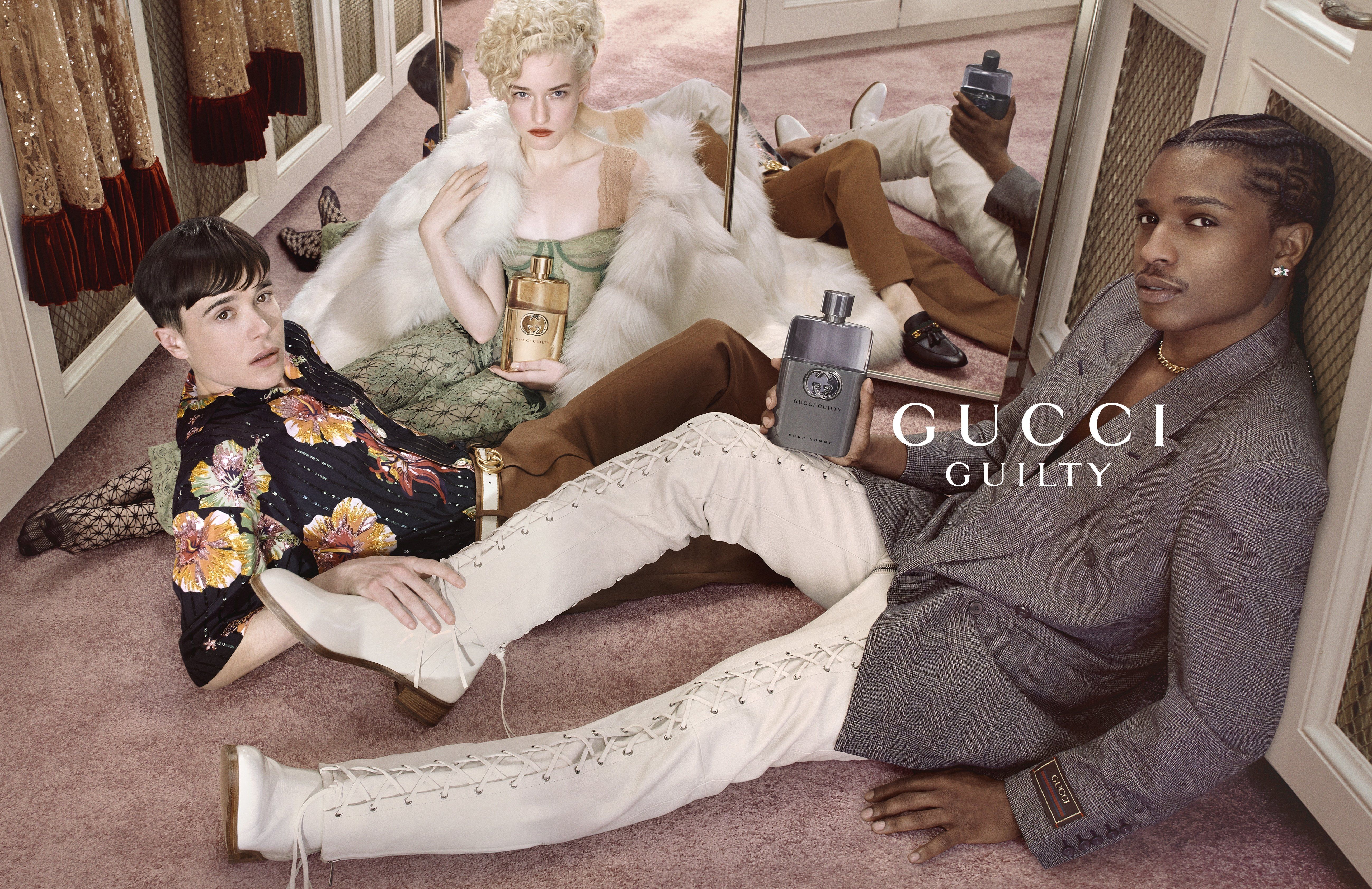 Gucci is playing Cupid, pairing A$AP Rocky and Julia Garner opposite Elliot Page in a perfume polycule for their newest fragrance campaign, "Guilty."
Not all pleasures are guilty, but Gucci's fragrance fantasy is imbued with a sense of something bubbling beneath the surface. Could it be base notes of jealousy? The cast's debonair demeanor in an art deco mansion reads ease and idle glamor, but moments of tension — a tearful exchange between Rocky and Garner; the brush of a bang from Page's face — cut between the beguilement.
Related | Elliot Page Lands His First Fragrance Campaign for Gucci Guilty
"They celebrate the countless iterations of love, embodying complete self-acceptance and showing how openness unleashes the purest form of expression," Gucci said in a press release.
This unlikely group paints a subtle, somewhat surreal picture of a polyamorous relationship as the three exchange tears, glances, laughs and lustful gazes. The Harptones' "Life is But a Dream" scores the campaign video with the sense that even things that seem are too good to be true are often not all that they seem. But all's well that ends well – with the three collapsing (fully clothed) onto the floor for a subtext-heavy clothing scene.
The film, shot by photographer Glen Luchford, makes a point of being less sexually charged than an industry-standard fragrance ad, described as "an ode to self-acceptance, friendship and love in all its forms through a story of tenderness, imagination and curiosity" upon its announcement.
The campaign does signify a shift in a traditionally straight, cis-normative industry (although the fragrance still comes gendered). Fragrance campaigns that once touted the enigmatic damsel and dominant bachelor tropes are now moving in toward more inclusive relationships.
"Guilty" marks Page's first fragrance campaign as well as Garner's introduction to the Gucci-verse. Rocky has fronted fragrances before. As in any throuple, there were some on-set nerves to overcome, but their chemistry unfolded effortlessly on screen.
As Page told Elle in an interview, "Rocky and Julia are the loveliest people, and upon meeting them, my nerves evaporated. They are big-hearted, kind, sincere, hilarious, and grounded."
Photo courtesy of Gucci